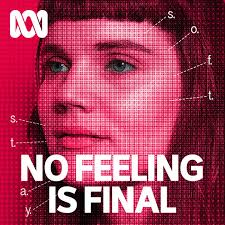 There have been many times in my life when I have hovered on the edge of my own existence but the closest call I ever had was last year. I was in New York and in the depths of shame and despair, I was only seconds away from jumping in front of an incoming train. The only thing that held me back was the thought of my partner, Wes, having to spend all this money having my mangled body shipped home.
I spent several months after that navigating my way through the murk and though there were a multitude of things that helped me out of the darkness (community, compassion, Buddhism, books, medication, therapy) there were some words I would often scrawl on my hand, on my studio wall, above the toilet and so on…
"No feeling is final" was something I'd heard my friend Honor Eastly say and it became a mantra for me. It became a reminder that though everything felt completely bleak and hopeless, though I felt completely pathetic, defeated and helpless… I hadn't always felt that way and that someday, the weather of my life would change and a new season would begin. This is the truth of reality, that everything is in constant flux, including our internal landscapes and our very selves. That reality can be horrifying, terrifying and devastating but it can also be liberating, beautiful and comforting.
"No feeling is final" was a perfect way to gently remind myself that nothing ever stays the same, not even the most profound pain, shame, heartbreak or grief. Those words were a part of what helped to save my life and now those words are the title of Honor's new podcast on her personal experiences of suicidal ideation, mental health and existential agony. It is so profoundly moving, kind, generous and brave. I would like to implore everyone to listen to this beautiful, compassionate, lovely, important podcast because I genuinely believe that it is going to help save lives. Search your podcast player for "No Feeling is Final" or follow this link. I definitely recommend starting at the beginning of the series.