"We can't selectively numb emotion. Numb the dark and you numb the light."

– Brene Brown, Daring Greatly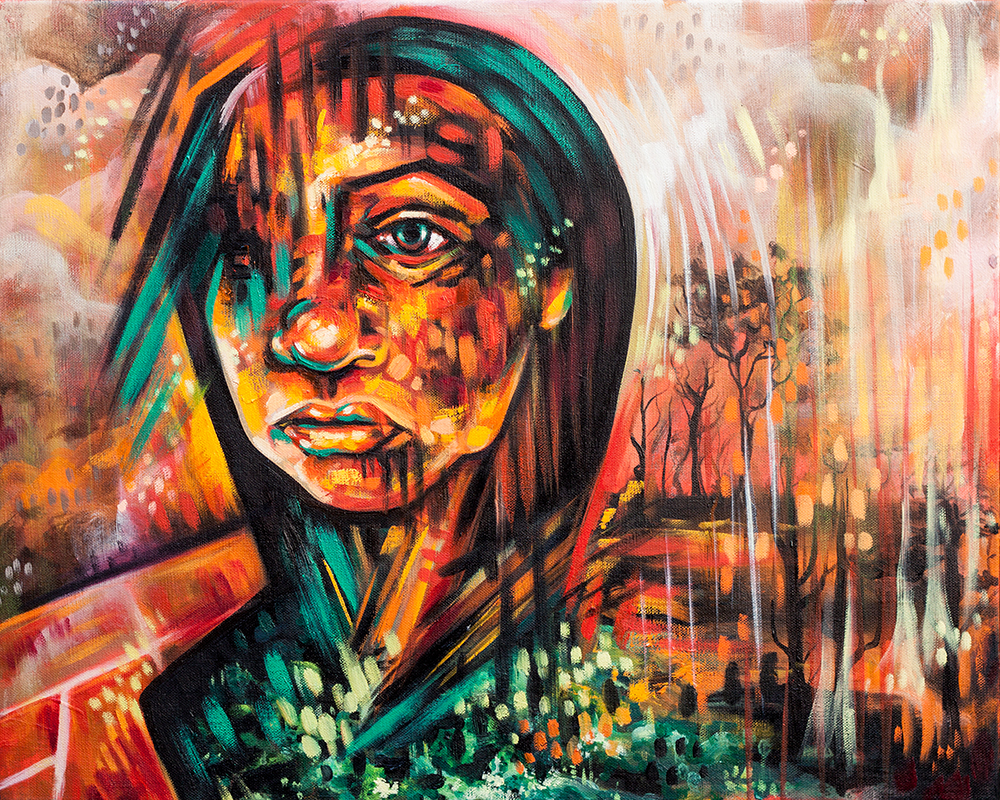 They tell me to try a little harder to care a little less.
Close that article to keep the truth out close the borders to keep those in need out close the windows to keep the smoke out close your heart to keep the pain out.
After all, you can't save the world.
But what they don't tell me is… how?
How do I remain unscathed by the suffering of the people I love the most? Do I look away from the violence inflicted upon my trans friends for simply being who they are? Do I ignore the stigma, politics and policy that threatens the livelihoods and lives of sex workers, myself included? Do I close my ears to the cries of my indigenous friends as they share their stories of intergenerational trauma, genocide and deep, heartbreaking, all-consuming grief?
How do I keep myself from noticing that the seasons don't smell the same anymore? How do I stop myself from this feeling in my bones like they are melting along with the vanished glaciers of Greenland? How can I get the feeling of trauma and incomparable horror out of my nervous system when a few short months back, this country was on fire and horizon lines vanished as the air was thick with toxic smoke? How can I rid myself of the heaviness of grief that I feel for the 3 billion animal lives lost and the forests still silent, blackened and dead? How can I shut off when I'm shut inside by a global pandemic that is killing so many of the world's most vulnerable people? How can I stop feeling sickness in my stomach and sorrow in my heart when I know the tortured animal flesh being sold around me and the guilt when I remember my own part in this unforgivable horror?
Why is their answer to shut off? Why is their answer to go inwards and insulate? Isn't that kind of the whole damn problem? Aren't we all related? Interconnected? Shouldn't we keep our hearts open? When the world is full of so much immensity of pain, is it wrong, somehow obscene, to have a broken heart?
I understand the need to practice rest, to switch off for the night, to regulate how much horror we take in on a daily basis. I know how news cycles and social media works and I understand the trauma of consuming too much violence and darkness in a day. I understand the importance of tending to your family, to your home, to your garden and of being a light of hope and health to nourish, nurture and change what is within your power to change.
But the horror is here on the doorsteps of all of us, the horror is in the flocks of parrots now living in the city because they ran out of habitat in fire scorched regions, the horror is in the asylum seekers being held prisoner in hotel rooms on Bell St, the horror is in the cheap clothing I wear that was made by the hands of slaves, the horror is in my loved one who chose unemployment over being forced to work "necessary" retail during a global pandemic, the horror is in every aspect of our complex, intertwined lives and the devastating legacies and histories of our ancestors, colonisers and oppressors.
So I reject the suggestion that my caring is the problem. I reject the notion that I need to build walls around my heart. The world is on fire and I reject the conclusion that my attitude is the problem.
I believe with a passion that the only hope we have for salvation is if we realise we are all profoundly and deeply interconnected. Pain is universal, joy is universal. Remaining open to the darkness in the world will not always make me happy but numbing myself to the darkness of the world will definitely rob me of any chance at true joy. I walk this life with my chest cracked open and though this lets a lot of darkness inside, it also brings me experiences of the sort of deep love, joy, wonder and awe that can only come about from a radical state of softness and openness.
I'm scared, a lot. My heart is broken, permanently. But I refuse to close my heart because my heart is my moral compass, my guide, it warns me of darkness and compels me toward the light. My heart breaks with the world but instead of feeling that I should keep myself together, continue to function and thrive as an Instagram image of wellness, a bastion of happy and wholesome perfection I'm going to speak my truth and strive to not succumb to shame.
I am sick. My heart is sick. My mind is sick. This sickness is a response to the unhealthy, toxic, oppressive systems that are doing violence to us all. It is not my job to meditate my way into happiness, though I do meditate as a survival strategy. I am no longer going to deny myself my right to speak my truth to which I am rightfully entitled: Grief, horror, fear, tears, sorrow, rage. These emotions speak to the truth of the world we are in and these emotions galvanise me towards seeking real change, towards imagining a better tomorrow, towards fighting for a better tomorrow. Fully allowing myself to integrate these emotions without shame is helping me to discover something that I've always struggled with before…
Hope. Fragile. Precious. Utterly necessary. Hope.
So no longer will I allow myself to be shamed into silence because the intensity of my emotions makes people uncomfortable. We are in a climate emergency, the very existence of our species is at risk, the jungles and coral reefs and ecosystems of my childhood daydreams and adventures are vanishing, the peoples and cultures I once dreamed of visiting and knowing are suffering, the future of the children I know is terrifying and that is something which my heart cannot ignore.
My broken heart remains open and will do so until the day I die. Perhaps it is my weakness. Perhaps it's also my strength.
"We can let the circumstances of our lives harden us so that we become increasingly resentful and afraid, or we can let them soften us and make us kinder and more open to what scares us. We always have this choice."

― Pema Chödrön, The Places That Scare You: A Guide to Fearlessness in Difficult Times