2022 Melbourne Fringe Festival
A self portrait of myself, the artist, by me, the artist.
Ever since she was a little girl, artist and performer Jessie Ngaio fantasised about killing herself. These suicidal impulses finally came to a head in her early 30s, when she stood by the rails in a subway station in New York City, listening to the rushd of an oncoming train, and decided to end her life.
"Oh Yuck, It's Me" is a dark, comedic, hopeful examination of sexuality, trauma and climate anxiety which asks the question of how we can find the will to survive while the natural world around us crumbles.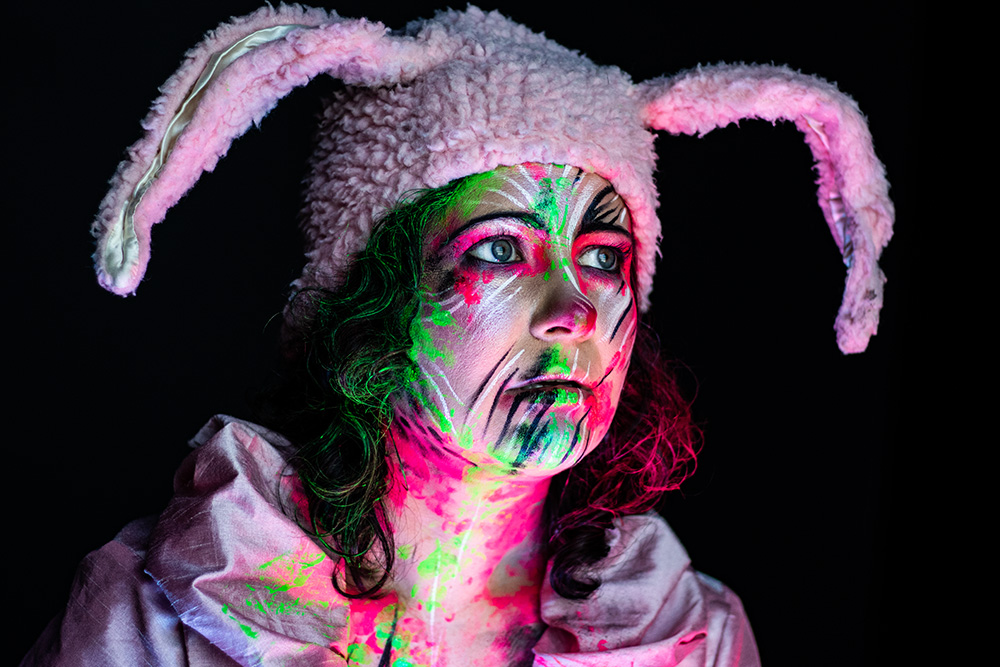 Nominated for two 2023 Green Room Awards
Review quotes for Oh Yuck, It's Me
"Oh god, this show made me cry. Ugly crying in the show. Have you been in a show that made you wrack and heave? I was doing it all there."

"It's just so nice to see a show by someone and recognise – when you see people that are so naturally creative and so at touch with what they want to make, I just think it's so beautiful. Even with someone so clearly at-odds with the world, and still be such a competent and marvellous performer and creative."

"I felt really lucky to see this show."

"It really was magic."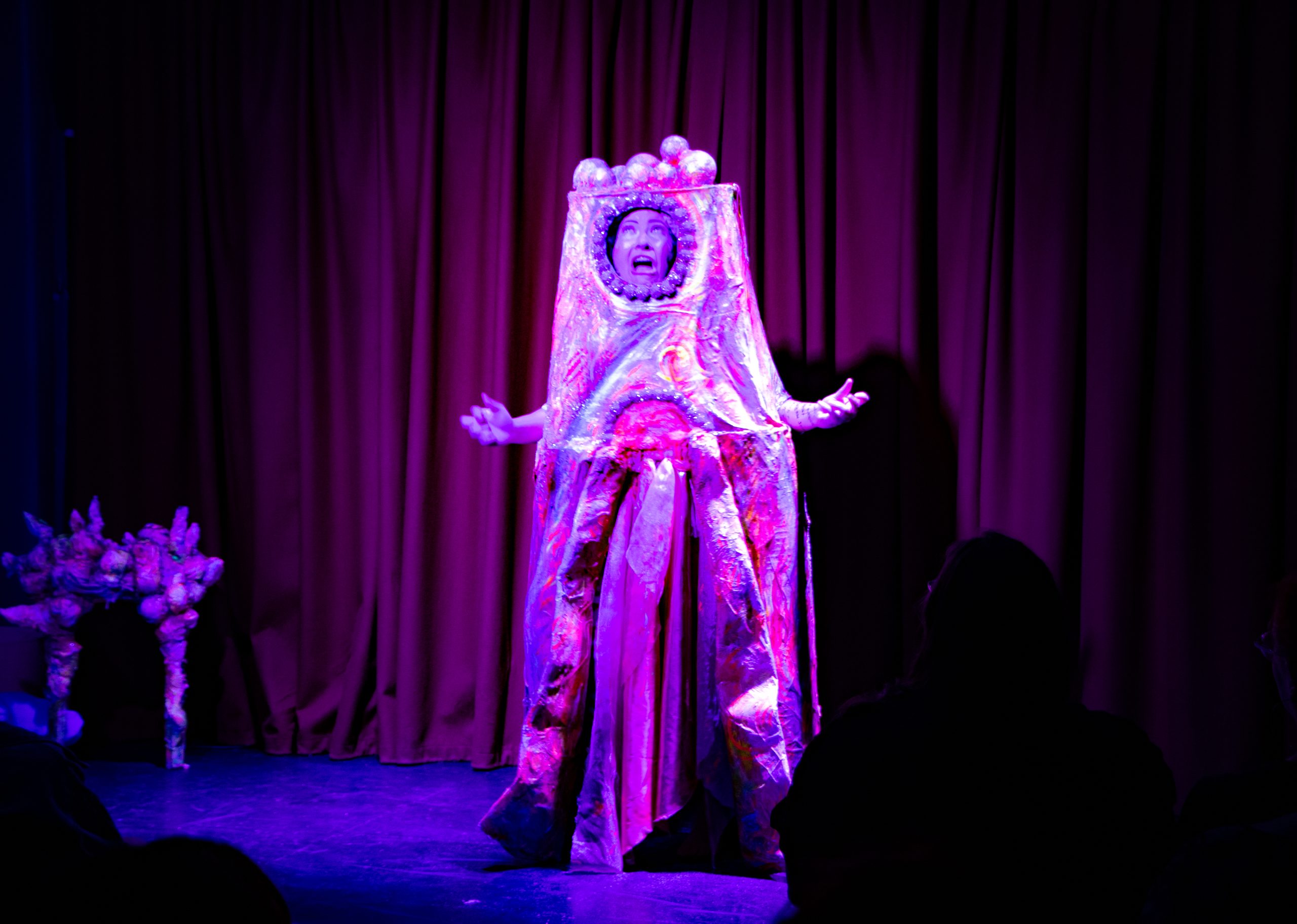 Audience Reviews
Melbourne Fringe allowed patrons to post their own reviews of shows on the website.
'I loved this show. I cried both tears of sadness and tears of laughter and left the theatre just gobsmacked by Jessie's skills as a creator. I'll genuinely never forget this piece.'
'The dark subject matter was artfully carried by Jessie and Lulu, I laughed, and then I cried. I examined the themes explored through the lens of my experiences. The art work was gorgeous and the ending sequence was a psychedelic masterpiece, intermelding visual art, activism and theatre. Oh and the songs! Goodest songs yes!'
'I saw the show twice, and both times Jessie and Lulu had moved me to tears, and within moments they made me laugh hysterically with their comedy genius. Oh Yuck It's Me is incredibly beautiful and moving and fun all at once. Jessie excelled with her performance in the show, and I absolutely adore Lulu!'
'I laughed, cried and desperately held myself from climbing on stage to hug Jessie and Lulu. An incredibly powerful performance by an even more incredible artist. Definitely go see it.'
'This was an incredibly moving show. It was at one moment just so funny and then the next just devastating. Jessie is an amazing artist and this is really special work. Lulu is a fucking delight.'
'I was left speechless. Oh Yuck, It's me is a roller-coaster of emotions. You'll laugh, you'll cry, you'll cry from laughing. A profound self portrait of the artist that will stay with you.
'This show is a vulnerable exploration of trauma, shame, humour, depression, anxiety, self love, neurodiversity, climate grief, hope & more. The seamless conversation between the artist & her "clown" character reminded me of the skill of ventriloquism (not what most people would think of as a clown, so don't be afraid). The juxtaposition of raw vulnerability of the artist & the wacky upbeat antics of her clown character left me in stitches (after tears) & in awe of her ability to switch between the two so rapidly. It's a labour of love & it shows.'
'I laughed, I cried, I was in awe watching someone pull themselves apart and remake themself in a flurry of paint and visceral vulnerability. I am so happy I got to see this show and I feel connected to myself in a different way having been able to experience it.'
'This is such a beautiful and moving show, and it also manages to be hilarious at the same time. I literally laughed so hard I cried and then almost cried again at the vulnerability of the performance.'
'This show is utterly brilliant! It brought me to tears and hysterical laughter, made me connect with my darkest feelings and grief at the world, and then reflect on how I can start healing. The show is hilarious, dark, sincere and wonderfully cathartic and I highly recommend it.'
'An excellent and impressive show. Jessie elegantly wove together various life experiences and topics in a performance I found raw, beautiful, and relatable in so many ways. At one point I literally got goosebumps. Amazing work.'
'It was incredible, amazing. I laughed and I had soft bittersweet tears, but I never expected it to be, to feel, so important, so poignant. It is safe to say I was moved, and I fell in love.
The performer's amazing dedication to craft really puts this forward as an incredible experience, carried with competence and so, so, so bold. I was utterly astounded and blessed to have been there.
I think you'll also love the big vulva!'
'This show is great value. Jessie packs so much into the hour I was left brimming with thoughts and feelings. Not for the faint of heart but be brave because you won't want to miss this.'
'This was a show of difficult subject matter all smooshed into a lovely, funny and beautifully touching package. Very personal but also universal, Jessie Ngaio gave a very genuine and skilful performance. I really enjoyed the way she used her clown and her art, singing and dancing to share her emotional story.'
'From the start it takes the social concepts automatically accepted and she says it out loud, from there it is equal parts of funny and emotional. Very enjoyable.'
'A wild ride – one moment deeply moving, the next ridiculously hilarious. An honest, cathartic adventure.'
'This was one of the most thought provoking and moving shows I saw. It took you to the depth of your soul, made me cry and laugh all at once. A beautiful emotional rollercoaster. And such a brave performance. Jesse is smart, funny and insightful. Love your work'
'Authentic, raw, powerful, cutting, beautiful and hilarious ✨ if you don't feel something from this show you didn't see the show.'
'Oh Yuck, It's Me was an emotional roller coaster that I'd line up to ride over and over. Jessie, you're such an engaging performer, holding us in the deep thoughtful moments we needed our hands held before dropping us into the shockingly hilarious. The gold just kept coming. I'm just glad this is on all week. I'm going again!'
'Unexpected and going into many directions, mixing funny and sad moments and ending in an explosion of colours'
'This mind blowing rollercoaster of a masterpiece takes you on a powerful journey, from ridiculous silliness, to the depths of deep sadness, through the complicated emotions around trauma, acceptance of disability & self, & back to gloriously absurd hilarity! It's difficult to explain & words aren't enough. It left me contemplating myself, my environment, my history, my planet. I will be processing & contemplating for a long time.
Simply beautiful.
Thank you thank you thank you.
XX🤍♥️🖤♥️🤍XX'
'Oh Yuck, It's Me is emotionally moving and a little dark but at the same time has some of the silliest, silliest moments I've seen on stage. Jessie Ngaio's performance paints with all the colours. An incredible artist.'
'Outstanding performances by both Jesse and Lulu. It was an emotional rollercoaster and the audience was with Jesse all the way. I was most looking forward to this show as I saw Jesse in a fringe show years ago that is still to this day my favourite! She did not dissapoint.'
'This show is exactly what I want from Fringe – vulnerable and raw, funny and relatable, and a beautiful visual element. A wonderful performer and visual artist, Jessie will make you fall in love with the human experience.'
'Entertaining and provocative. Watching Jessie switch between characters was thrilling and impressive. She held the audience in the emotion of the show with great skill and humour, taking us on a deep journey interspersed with lightness. Important conversations brough to the fore without the usual finger wagging.'
'Not that anyone has asked me to do this BUT if someone were to say "can you describe 'Oh Yuck, It's Me' in three words?", I'd respond feeling a lil stumped; it's no easy task!
However, having thought about this hypothetical situation for some time, the three words that sprung to mind were confronting, raw, & important.
I wasn't sure what to expect & I don't think I could ever accurately convey what the show was about because so much of it was the power of being present in that space and watching a brilliant, authentic performer.
It's a show you'll walk away from & not know what to say but certainly FEEL a whole lot. You'll need to take pause to really process the intricacies of what you've experienced, & for good reason.
This was my first ever Fringe show. If this show is a reflection of what the Festival offers, it's apparent how invaluable this form of art is and the need for more people to see it.
Thank you for sharing, Jessie :)'
'Go see it. She's hilarious and so clever. You will be moved and it will feel meaningful and you can marvel at how alive you can still manage to feel. Art by people like Jessie is a means of survival.'
'A roll coaster of a journey collides with a visually stunning experience!!!'
Oh Yuck, It's Me played at The Butterfly Club in Oct 2022.